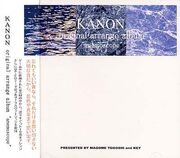 Anemoscope is an arrange album released by Key for the Kanon visual novel. It was packaged with the first edition of the Kanon visual novel on June 4, 1999. Ten of the twelve tracks on the album are arrange versions of background music featured in the visual novel. They were arranged by Shinji Orito, Magome Togoshi, and Kazuya Takase of I've Sound.
The last two tracks are the original versions of the game's two main theme songs, "Last regrets" and "Where the Wind Reaches". Both of the theme songs were sung by Ayana.
Track list
Edit
Altogether, this soundtrack is 54 minutes and 47 seconds long.
This is the first soundtrack released for the Kanon visual novel.
An anemoscope is a device that is no longer used. It was invented to show the direction of the wind, or to foretell a change of wind direction or weather.
Community content is available under
CC-BY-SA
unless otherwise noted.